I haven't been able to put Lua down lately...she's been having a beautiful week...her blush was rubbing off so I fixed it and have been taking her everywhere as she just has such a cute face. I decided that if I were to have to get rid of all my dolls and just have one, it would be Lua.
I was able to get her face just right...I bought that dress off of DoA and that is my favorite dress on her; it's totally her style.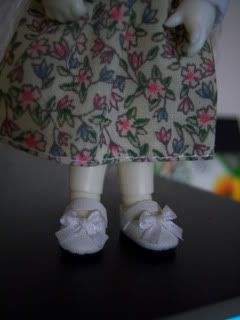 These are her dainty shoes. Usually the Puki wear Kelly shoes because it's so hard to find nice shoes that tiny. Fairyland, who produces the Puki, sells these shoes!!! Luckily they've begun to make other styles too which lead to well dressed Puki!
I'm glad I can get her hair in braids without having them stick out anymore...must be because I dampened the wig to let all the frizzies come out. I'm still in love with those flower clips! The shirt was a gift to me from Jenifer aka Spampy (her site is
here
)
I can't stop playing with this little girl. Hopefully I won't have to!
(PS: I'm thinking of getting a Chocolate Skin Pipi and naming her Umbra)