I really love Penelope...her arms are a little funky so that's the closest her hand can get to her face but it is like she is blowing a kiss to me.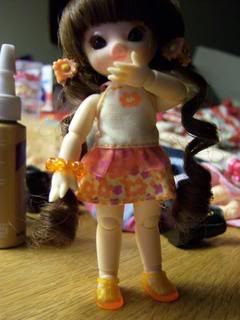 I love this outfit on all my dolls...the hair clips I just got at CVS...a really great find! I've been asking on DoA what people do for other hair clips besides triangle clippies and plain jaw clips.
I'm holding her in my hand...such detail for such a little girl!
Je t'aime donc je t'embrasse <3